Say NO to NUKES… Stand-Out/Sound-Off – Sight & Sound in front of WPVI- ABC Channel 6
October 16, 2022 @ 3:00 pm

-

5:30 pm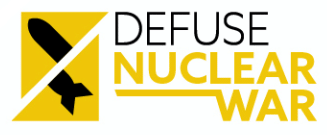 October Month Of Action – DEFUSE NUCLEAR WAR

October 2022 marks the 60th anniversary of the Cuban Missile Crisis, the closest the two nuclear superpowers ever came to nuclear war… until now.  https://defusenuclearwar.org/month-of-action
Say NO to NUKES. Demand that attention be paid to the very real threat posed by nuclear weapons.
Sunday, October 16, 3p.m. – 5:30p.m.
– Stand-Out/Sound-Off – Sight & Sound in front of WPVI- ABC Channel 6, Corner of City & Monument Avenues.
One of the most well traveled areas in the Philadelphia area. Large Banners and Signs, Bell-Tolling.
Call Bob at 215-843-4827 for more information