PANDEMIC CANCELATION! Forget Trump…Listen to Dr. King. Bell Tolling Vigil in Phila. to mark Anniversary of the Assassination of Dr. Martin Luther King, Jr. Support the UN General Secretary's appeal for a global ceasefire to stop the Pandemic
April 4 @ 1:00 pm

-

2:30 pm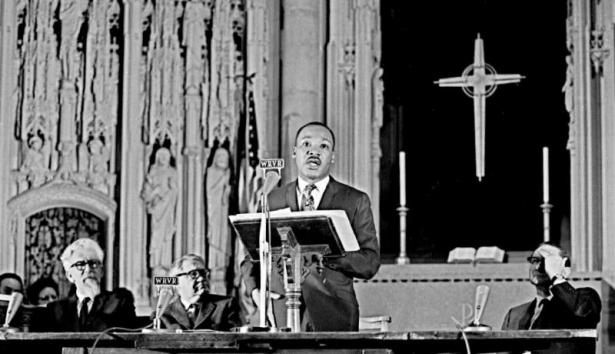 Martin Luther King speaking at Riverside Church, April 4, 1967. Rally organized by Clergy Concerned about Vietnam. (Rabbi Abraham Joshua Heschel seated at left.) .

CANCELLED DUE TO PANDEMIC!
We cannot be and will not be at LOVE Park on Saturday, April 4, the Anniversary of the Assassination of Dr. Martin Luther King, Jr.  We are "Staying In", and urging you to Listen and/or read Dr. King's historic anti-war speech at Riverside Church delivered on April 4, 1967, one year to the day before his assassination.
Read and listen to it here: https://kinginstitute.stanford.edu/king-papers/documents/beyond-vietnam
Instead of standing at LOVE Park we are calling upon you to support the UN Secretary-General's call for a global ceasefire, stopping wars and laying down weapons, in the face of the global  COVID-19 Pandemic.
United Nations Secretary General Antonio Guterres's

proposed

global ceasefire:
Our world faces a common enemy: COVID-19.

The virus does not care about nationality or ethnicity, faction or faith. It attacks all, relentlessly.

Meanwhile, armed conflict rages on around the world.

The most vulnerable,  women and children, people with disabilities, the marginalized and the displaced  pay the highest price.

They are also at the highest risk of suffering devastating losses from COVID-19.

Let's not forget that in war-ravaged countries, health systems have collapsed.

Health professionals, already few in number, have often been targeted.

Refugees and others displaced by violent conflict are doubly vulnerable.

The fury of the virus illustrates the folly of war.

That is why today, I am calling for an immediate global ceasefire in all corners of the world.

It is time to put armed conflict on lockdown and focus together on the true fight of our lives.

To warring parties, I say:

Pull back from hostilities.

Put aside mistrust and animosity.

Silence the guns; stop the artillery; end the airstrikes.

This is crucial.

To help create corridors for life-saving aid.

To open precious windows for diplomacy.

To bring hope to places among the most vulnerable to COVID-19.

Let us take inspiration from coalitions and dialogue slowly taking shape among rival parties in some parts to enable joint approaches to COVID-19. But we need much more.

End the sickness of war and fight the disease that is ravaging our world.

It starts by stopping the fighting everywhere. Now.

That is what our human family needs, now more than ever.
We need United States to be part of the global ceasefire!
2) Contact your nation's government and get a clear commitment to engaging in the ceasefire (not just urging others to do so).
3) Share the Secretary-General's statement wherever and however you can – on FACEBOOK, e-mail far and wide, during your online worship services and virtual gatherings
Again, CANCELLED DUE TO THE PANDEMIC
Saturday, April 4, at 1p.m. – Join the Vigil in Philadelphia at the entrance to LOVE Park, 15th St. & JFK Boulevard,  marking the Anniversary of the Assassination of Dr. Martin Luther King, Jr., April 4, 1968, and his his historic speech  exactly one year before his assassination.
Resist "the evil triplets of American society: Racism, Materialism, Militarism."
(Dr. Martin Luther King, Jr., April 4, 1967, Riverside Church, New York, NY)
Bell tolling , reading excerpts the timely (and timeless) speech delivered at Riverside Church in New York City "Beyond Vietnam: Time to Break Silence".  Alongside banners, stand (or sit) with signs provided, picturing Dr. King.
FORGET TRUMP, LISTEN TO DR. KING.
THE POWER OF LOVE SHALL OVERCOME THE POWER OF HATE & WAR.