Michael Moore's FAHRENHEIT 11/9 @First-Fri. Film Screening, Peace Center of Delaware County
November 1, 2019 @ 7:00 pm

-

9:30 pm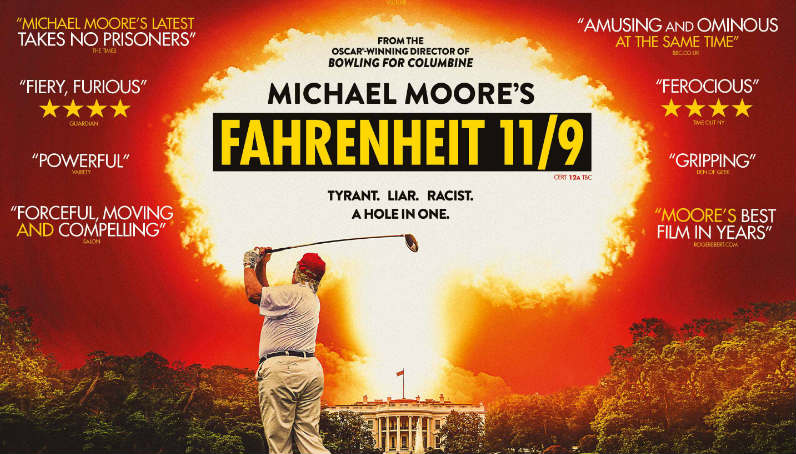 Michael Moore's FAHRENHEIT 11/9
Rated R for language and some disturbing images. 120 minutes. Written, directed and narrated by Michael Moore.
Released in 2018, Fahrenheit 11/9 is the Oscar winning filmmaker's latest film declaration of wit, guerilla theater and laughter asking: why can't we just see what's going on here.
Here, though, Moore is enraged. He paints a picture of American power, greed and hatred, beginning with the question: How the f**k did this happen?!?
It wouldn't be Moore to hold back. Fahrenheit 11/9 doesn't.
The film's title refers back to Moore's 2004 film, Fahrenheit 9/11, about the Bush II Administration's policy of "endless war" in response to the Sept. 11, 2001 attacks. Both titles refer back to the Ray Bradbury classic dystopian novel, Fahrenheit 451.
In Fahrenheit 11/9, Moore talks Trump, but then goes well beyond and beneath Trump, to the destruction of the environment, war, health care, gun violence, and the wholesale rip-off of the American people and their democracy.
Michael Moore in Fahrenheit 11/9 is saying Trump is really a sympton of a far deeper illness in American political culture, and the only cure is that old "we-the-people" thing.
Be forewarned, you might be asking yourself: "What the f**k can I do?"
See Fahrenheit 11/9, or see it again, at the Peace Center of Delaware County on November 1 at 7p.m.   If you can, plan to stay for the post-film discussion
Movie trailer: https://www.youtube.com/watch?v=JXCUPS2LETg