Honor the Legacy of Dr. Martin Luther King, Jr., April 4, anniversary of his assassination. SEPTA, 30th St. Train Station, "Reach-Out" & Public Reading of the historic Riverside Church speech "Beyond Vietnam: A Time to Break Silence"
April 4 @ 4:00 pm

-

5:30 pm

Remember Dr. King's Dream and Message: MAKE WAR NO MORE
For Peace!


LISTEN ALL…TO  DR. KING
 MONDAY, APRIL 4, 4PM, 30TH ST. TRAIN STATION, PHILADELPHIA, Not Virtual, LIVE/BY-YOUR-PERSON! Join the Public Reading of Dr. King's historic Riverside Church speech and "Reach-Out" with leaflets, large pictures of Dr. King, bell-tolling, graphics and anti-war peace and justice posters, and in front of the very well-traveled 30th Street SEPTA train station, 30th & Market Streets, Phila., PA beginning at 4p.m. on April 4, 2022,
THE POWER OF LOVE SHALL OVERCOME
THE POWER OF HATE & WAR.
Over the past four decades, our public readings of Dr. King's speech, as well as loudspeaker broadcasts have been held  at the Liberty Bell, Phila. City Hall  and in front of Lockheed Martin, in King of Prussia, an ongoing focus of our nonviolent direct action campaign. This year's theme will be: "Honor the legacy of Dr. King; Make War No More!" with the message "NO WAR, LET UKRAINE LIVE", with the hope and commitment that one day America will overcome its own racist history of war and empire, nuclear weaponry, and the endless celebration of white supremacy, greed and militarism around the world.
Resist "the evil triplets of American society: Racism, Materialism, Militarism."
(Dr. Martin Luther King, Jr., April 4, 1967, Riverside Church, New York, NY)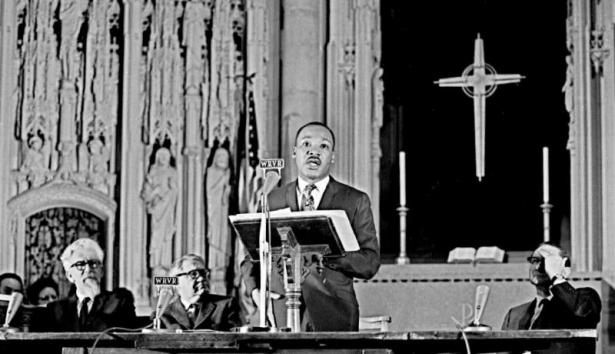 Click or paste into browser to read and hear Riverside Church speech, Beyond Vietnam — A Time to Break Silence
https://www.americanrhetoric.com/speeches/mlkatimetobreaksilence.htm
On Sunday, April 3, United for Peace & Justice  (UFPJ, http://www.unitedforpeace.org/),
in which the Brandyine Peace Community is an originating member, will host a
virtual/participatory reading by representatives of UFPJ member groups of Dr. Martin Luther King, Jr, April 4, 1967,seminal speech,Beyond Vietnam: A Time to Break Silence. And you are invited!
 Following the reading we will discuss forming a UFPJ Poor People Campaign working group to organize support for the
June 18, 2022, Poor People's Campaign — Moral March on Washington.