"Diplomacy Now…Defuse Nuclear War" Peace Observance at Liberty Bell & Independence Hall Marking One Year Anniversary of Russia's Invasion of Ukraine
February 24 @ 12:00 pm

-

1:00 pm
http://prawnworks.net/rlg/2023/Anniversary-invasion-Ukraine-230224.html
photo-essay  by Rich Gardner
"Diplomacy Now…Defuse Nuclear War"
Marking One Year Anniversary of Russia's Invasion of Ukraine


"Diplomacy Now…Defuse Nuclear War"
Marking One Year Anniversary of Russia's Invasion of Ukraine
Friday, February 24, Noon
Peace Observance facing Liberty Bell & Independence Hall,
Market Street south side sidewalk, between 5th & 6th Streets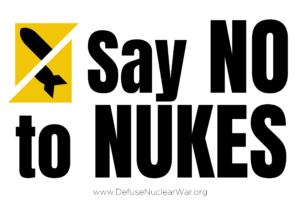 https://defusenuclearwar.org/
Free us from Nuclear Weapons and the Increasing Threat of Nuclear War.
Stand with others in Our Place of Liberty as the Bell of Peace Tolls and Our Voice Is Raised.  Signs provided
Large Banner & Sign Display,  Speakers, National Call-in Day.  Together, we can insist on diplomacy not more militarism, weaponry, and the threat of nuclear war.

https://www.codepink.org/ukraine
IPB Call to Action – On the First Anniversary of the Russian Invasion of Ukraine: Let's Show That There Are Peaceful Alternatives to War