BANNER DISPLAY & BELL TOLLING/JULY 3/INDEPENDENCE MALL, PHILA./ DECLARE YOUR INDEPENDENCE, HANDGUN to H-BOMB
July 3 @ 1:00 pm

-

3:00 pm

Sat., July 3rd, 1p.m. – 3p.m.
DECLARE YOUR INDEPENDENCE:
Handgun to H-Bomb,
Violence, War, Nuclear Weapons

Peace Banner Display
& Bell-Tolling
People's Plaza, Independence Mall,
Market Street, at 5th Street,
in Philadelphia.
Stop and Partake in a visual and quiet bell-tolling experience
in nonviolent resistance and peacemaking.
The display is comprised of  large, colorfully dramatic banners,  from the Brandywine Peace Community's huge supply of compelling  banners and graphics representing our history of anti-war and nonviolent resistance over the past four decades.
We celebrate those that made these banners: from the beginning in 1977, Beth Centz, co-founder of the Brandywine Peace Community, Lyn Currey (now deceased), Lou Ann Merkle, and, our most recent banner maker, Melissa Elliot.
Throughout the display our decades-0ld peace bell will toll and participants will stand or sit (on folding chairs they bring) while holding a poster available at the display conveying
a message of hope and our Independence Day cry:
peace in our communities and the world,
justice among people and with the earth.
Participants are invited come and go during the display.
*The display is dedicated to the memory of Margaret "Peggy" Hasbrouck,
who for many years not only housed the Brandywine Peace Community office
and staff accommodations in her Swarthmore home, but was a presence of
activism, service, and utter caring in and for everyone.
For more information call bob at 215-843-4827  or e-mail:brandywine@juno.com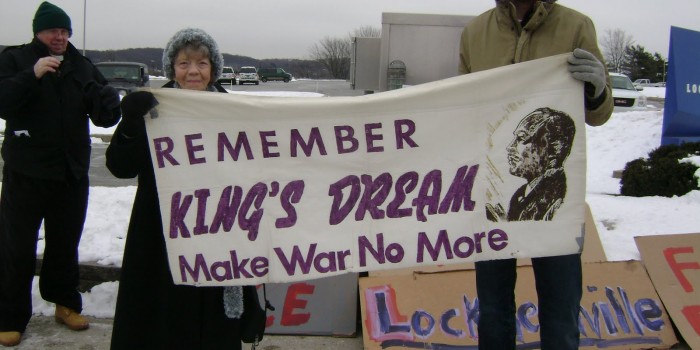 In front of Lockheed Martin in King of Prussia, pictured from left to right: Bob Smith,
co-founder/organizer, Brandywine Peace Community, Melissa Elliot, who made the
above banner, and Paul Sheldon, Quaker war tax resister and repeated civil resister
at Lockheed Martin.

Christmas Peace Vigil in front of Lockheed Martin in King of Prussia

Michael Berg, Gail Steiner pictures in front of Lockheed Martin in King of Prussia

One of our most provocative signs says it all in front of Lockheed Martin
in King of Prussia.

August 6, 2011 photo by Rich Conti
Crime Scene is wrapped around Lockheed Martin sign in King of Prussia

Protest in front of Drone War Remote Command Center at Horsham Air
Guard Station – Photo by Rich Gardner

Pictured left to right in front of Lockheed Martin in King of Prussia
(Paul Sheldon, Theresa Camerota, Bob Smith, Tom Mullian, and Beth Centz),
on Martin Luther King Day 2021, announcing that the UN Nuclear Ban Treaty
was entering into force